Sofija
9 July 2021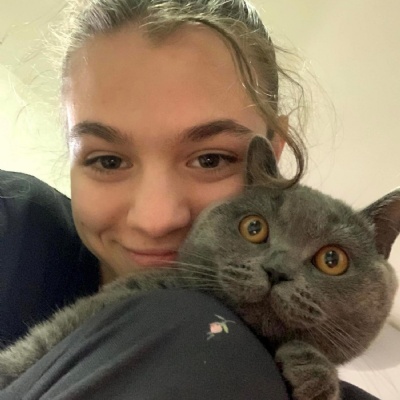 If you scroll through the United Nations jobs website, you'll notice the organization looks for a few recurring skills: on top of substantive expertise, it helps to know a language or four, it's nice if you've had experience in multicultural environments, and bonus points if you're a self-starter. If, in the near future, the UN decides to start hiring fifteen-year-old high school students, consider this an honest recommendation for Sofija Gribovski.
You see, Sofija's childhood has had a bit of a United Nations flair. She was born and raised in Skopje's center. When in third grade her mom told her the family is moving, Sofija asked where, to Aerodrom? The actual answer was a little further -- soon afterwards, the family relocated to Almaty, Kazakhstan. There, Sofija was placed in a Russian-speaking school and had to figure out, using her native Macedonian and the English she picked up through cartoons, how to communicate with her peers. A year in, by the time she learned Russian, they moved again. This time it was to Beijing, where she's been for the past six years. (Our National Committee really tries to promote UWC to kids from outside Skopje; with the 7500 km to China, we joke that our efforts have clearly been very successful).
Given the multicultural upbringing -- at this point, I've spoken to her in Macedonian, English, and in my elementary Chinese, but I hear she also speaks French -- it's probably no surprise Sofi is drawn to the United Nations. In her first Model United Nations conference -- a simulation of how debates are run in the real UN -- Sofija thought to herself, wow, these kids bite. She recalls an older delegate who likely noticed she was a beginner (she was in 7th grade at the time) and would often speak up to criticize her ideas. Sofi remembers this experience not because she holds a grudge (in fact, she's still in touch with the delegate!), but because it showed her what she needed to do to be better.
And that's what brings us to a central, motivating factor in Sofija's life. She's plenty aware that her experience is very unusual, and she's determined not to let it go to waste. I see that I'm in a privileged position -- how many people have never gotten this type of chance? So, I shouldn't throw this away. In the middle of exam season, she was the goalkeeper on her school's football team (which, by the way, isn't even her main sport; she prefers volleyball). When defending a free kick, she broke her right hand and then took the exams anyways. (No worries -- the team won 7-1).

With that unrelenting drive, Sofija will be going to UWC Changshu. Because of the pandemic, her experience will be rather unusual: most international students can't get to campus, so the student body will be smaller in her first year. But, as always, she plans to make the best out of it, and is confident that her second year will be just as multicultural as UWC is supposed to be. In the meantime, she'll work on getting better. She plans to focus on literature and philosophy in the IB, with an intention of studying law later on.
There's a ton of problems that the world -- and the United Nations -- will need to tackle in the coming decades. Success will require a lot of talented, thoughtful, worldly folks working together. I wouldn't be surprised if, in a few years, Sofija is one of them.