Curiosity
21 July 2020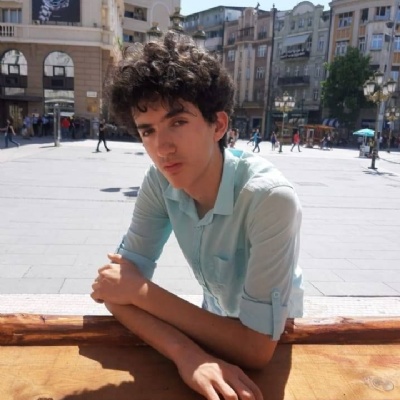 Artan Kadriu, UWC South East Asia
Artan's mind is curious.
As we talk, he jumps from one idea to the other. He's a well-read and principled 17-year-old: he analyzes the movie "Snowpiercer" (it's a metaphor for social segregation) and tells me about political theories on democratic progress.
His story begins in Morani, a village in the outskirts of Skopje. He was raised in a tight-knit community, where everyone knew each other and greeted one another on the street. The way he describes his village is evocative of another small community -- a United World College. In Morani, a big part of childhood was appreciating nature. "When I was a child, we used to harvest watermelons," he tells me. He's excited to maintain that connection to his village even as he embarks on a journey to Singapore.
Before taking the 6 AM bus to "Zef Lush Marku," his school in Skopje, Artan would often go for a walk in the nearby forest. Watching the sunrise slowed him down ("I was always calm after it"), which was helpful in an environment where he often stood out.
You see, Artan loves to read. In his application, he mentions that books taught him to "listen before [he] talks." The drive to learn was intrinsic, even though his peers were often not the most supportive. But he found ways to use his love for reading to build the community around him. In sixth grade, he brought a Harry Potter book to school. Other students had seen the movie but didn't know there was a book, so Artan encouraged them to read it. This started an avalanche of interest -- with kids coming with him to the library in Skopje to continue reading. His sister, still in grade school, hears teachers mention his efforts even now.
Although he's not sure when he'll go to the UWC he was chosen for -- Singapore's visa processing is still halted -- Artan has a clear vision. He knows his subjects (including Global Politics, Physics, and his mother tongue, Albanian), and he might want to go to college in the United States. The liberal arts program, where he can study multiple subjects at once, really appeals to his curiosity.
I asked him if he plans to return home. With no hesitation, Artan said, "of course!" There's a lot to do in his home environment, he says, particularly in the public education system. After listing several proposed reforms -- reducing the number of subjects and improving teacher quality were at the top -- Artan told me about his conviction that others should come back, too. "We mostly choose the easy path here," he said. But change will require sacrifices. Relying on President Kennedy's famous quote -- ask not what your country can do for you -- Artan hopes other students who get the opportunity to get an education will return to their home communities.
As we wrapped up, I offered Artan the chance to send a message to his future self. He was brief: "Don't forget the goals you've set."